acclaim for

why do i work here
"In Why Do I Work Here?, Mark has laid out a compelling argument that getting the most from your business requires you to make the most of your culture. Forget carrots and sticks, the future belongs to those who create a culture that promotes autonomy, free thinking, and collaboration."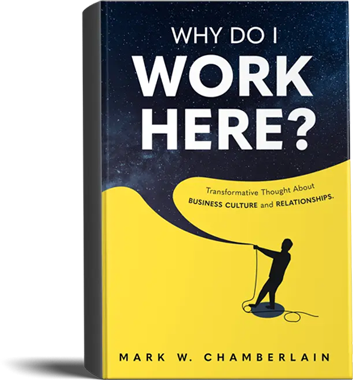 In this book, author Mark W. Chamberlain shares his personal journey of transformation, and how over the past seventeen years he has brought that transformational change into his company. By empowering people, giving them a safe place to innovate and fail and innovate again, letting them see their impact, getting personal, and treating people the right way, he created an environment where people went above and beyond for the company, for the clients, and for themselves.
After nearly 2 decades on the floors of The Chicago Board of trade, Mark W. Chamberlain turned his attention to fostering his personal entrepreneurial mission: to make more of life. As CEO of Lakeside Wealth Management, over the ensuing two decades, Mark continued to master the art of building an all-in culture that cultivates real relationships with clients and colleagues in a traditionally transactional industry.